RiseVibes: Broken and Beautiful by Kylie Brice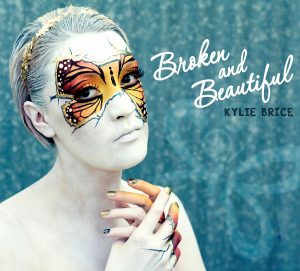 Kylie Brice is an Adelaide musician and songwriter and this is her debut EP. Having won a local song writing competition which awarded her some recording time, she released her debut single 'Journey to Myself' in 2015. The single features on this EP 'Broken and Beautiful', officially launched on 26 February this year.  Her sound has been described as 'Missy Higgins meets Clare Bowditch'.  Her lyrics reflect her struggle with anxiety and depression, but are actually uplifting and in a way triumphant.  The recording has a clean acoustic, almost live, sound to it and the guitars are backed up by strings which at times seem to follow the emotive rise and fall of the lyrics.
'Fly with Me' is a song of celebration and healing and reminds us that 'broken can be beautiful'. I think this song is one that particularly highlights Kylie's beautiful vocal capability.
'Who Am I' has a Latin feel and is slightly more up tempo.  Even though it speaks about the struggle to accept love and freedom when we feel unworthy, it is a little bit playful: 'who am I to change your mind'.
'Recharge' warns us not to overdo it when giving ourselves to others. We need to look after ourselves, and ensure there's a little bit left for 'me'.
Most of us will relate to 'Song for the Weary', which gently speaks to our insecurity and weakness, then earnestly assures us that we don't have to walk through life alone.
'Journey to Myself' is another of Kylie's songs that really highlights her beautiful vocals.  This song says something about the futility of building our life and identity around things that are temporary and, in some respects, sets up the theme for the EP which is primarily about self discovery and the search for identity.
Kylie has a wonderful ability to express in words and music what many of us have experienced or indeed are going through.  In her songs we can at times recognise ourselves and her message of hope – that everyone is valued, that there is someone who loves you and wants to walk with you.  Clever lyrics, lovely musical arrangements, the combination of strings and guitar and the clarity of Kylie's vocals are enough to make this EP potentially a commercial success. You don't need to be a 'believer' to enjoy her music and her message, or to sense something spiritual in her songs. But to those who are Kylie's Christian faith, which has helped her negotiate some tough times, certainly shines through.
CD credits: Kylie Brice – vocals and guitar, Robin Lewis – guitar, David Kitterringham – bass, Hannah Yates – cello, Jessica Goodluck – backing vocals, Craig Atkins – percussion. Tracks 1-4 recorded by Matthew Vecchio at Karisma Recording Studio, Track 5 recorded by Matt Williams at Fat Trax Studio. Cover photography by Laura Jane, face and body art by Margie Goodluck, graphic design by Matt Goodluck.
 'Broken and Beautiful' is available from kyliebricemusic.com
Reviewer:  Wendy Rush