RiseVibes: Mountain Wolf by Rosanne Hawke
Natural Disaster: the Inspiration behind Mountain Wolf
Scroll down to read book review.
Rosanne Hawke talks about how she came to write her new book, Mountain Wolf. 
The idea to write a book about trafficking first came to me when I was on an Asialink Fellowship in Pakistan.  It was just a year after the 2005 earthquake and there was a lot of coverage in the Pakistani media of the first anniversary of the 7.6 quake that decimated mountain villages like Balakot with 50,000 deaths at a time. Wherever we went in the mountains, especially in Azad Kashmir, people were still living in tents. Even schools were held in tents. We too had experienced an earthquake when we were aid workers in Pakistan some years before. Although it was half the size, I could get an impression of how terrifying the 2005 quake must have been.  So it is not surprising that Mountain Wolf begins with an earthquake.
While I was researching for another story in Pakistan I discovered research on trafficked Pakistani children and how they were sold into slavery or sent overseas. I also discovered something appalling: unscrupulous adults were preying on the orphans from the earthquake enticing them with offers of jobs but selling them into domestic service, factories or brothels.
Sometimes parents need money and 'bond' their child to a factory for some time to gain capital to help the rest of the family. The problem with debt-bonding is the families can never seem to find the capital to buy the child out. I found it isn't always poverty that causes trafficking, often children lack protection, skills and education and are tricked or kidnapped.
All this research ended up in Mountain Wolf in some form, often as the experience of the characters.  I pictured a boy in the tribal region of Kala Dhaka, Black Mountain, the only survivor in his family from the earthquake, and so Razaq's story took on life.  I wrote one page to begin with as I was writing Marrying Ameera, but Razaq stayed in my head until it was time to write his story.
To fine tune details of setting and culture, I travelled up the Karakorum Highway again to see what the road was like since the earthquake.  In parts close to the Indus River it looked like one of the world's worst roads.  The closest I could get to the tribal area of Kala Dhaka was a police post on the border.   A young guard there let me hold his AK47 Kalashnikov. It was heavy and I swung around with it skew-whiff in my arms, to ask him how you shoot it, a very writerly question I thought, since one of my characters might need one. The guard dropped to the ground in front of me and said, 'Don't shoot.' He had forgotten to tell me it was loaded.
An aid worker we knew who had worked in Kala Dhaka during the aftermath of the earthquake told me what it was like and showed me photos. Kala Dhaka is one great mountain range with the Indus River forming the western boundary. Beautiful green fields and terracing cover the lower slopes. As with other tribal areas in Pakistan they are outside federal law. There are no national police or army units stationed there. They govern themselves.
I found Pakistani Government reports on the web dealing with trafficking, protection centres for children, nigeban, shelters for children who escape, and reports about street children and child prostitution.
Discovering how trafficked children are rescued was difficult as only two per cent in Pakistan escape. I wanted Razaq to be one of that two per cent. I also wanted the climactic rescue to be lifelike. This was perhaps the trickiest part of the story to write as people I asked in Pakistan didn't always know how the rescues were conducted.
In writing Mountain Wolf I didn't want to trivialise the suffering of trafficked children; I wanted to tell an untold story as this trade is done in secret. I was appalled at the figures of trafficked children worldwide. World vision estimates that over 1.2 million children are trafficked each year, as child/human trafficking is one of the fastest growing crimes in the world, the second largest after drugs according to the US State Department. It doesn't only occur in third world countries. Australia is a destination point for trafficked women and children and child prostitution happens here too.
Even though child trafficking is slavery and needs exposing, above all I wanted Razaq's story to show true friendship, and the strength of the human spirit to hope in spite of harrowing circumstances.
 
Mountain Wolf by Rosanne Hawke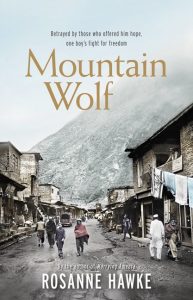 Living a tough but free life in the mountains, Razaq is out collecting water from the stream when the earthquake strikes, killing his entire family and wiping out his village in northern Pakistan. Heeding his father's dying instructions to go to his uncle living in Rawalpindi, Razaq is instead lured by a 'helpful' stranger and sold into slavery. A very handsome boy, Razaq's life in the city slides from one sort of slavery to another, each more dangerous and degrading than the first. Several escape attempts end in disaster, but along the way he encounters other enslaved children living equally desperate lives, although some retain determination, resilience and hope. Although Razaq almost gives in to despair, his desire for freedom, will to live and his friendship with 12-year old dancing girl Tahira keeps him focused on getting them both out of the brothel where they work. Uncle Javaid, too, never gives up the search for his missing nephew, trawling through the alleyways of the bazaars and contacting Aid Agencies and the police for help. This is a harrowing but most engrossing book revealing much of the lives of enslaved children in Pakistan, and international efforts to stop the trade. Be warned: this novel contains some strong elements of male and female rape and other terrible brutalities forced on children but deserves its place in secondary libraries for its authenticity and the power of its story. Exploring an issue of international concern, this is a book worth reading and discussing with upper secondary students.
Reviewer:  Chloe Mauger
This article and book review first appeared in Reading Time Vol 56 No 3, the journal of the Children's Book Council of Australia.  Used with permission.
For more about Rosanne Hawke and her books go to: www.rosannehawke.com