RiseVibes: Pieces of Eternity by Michael P Jensen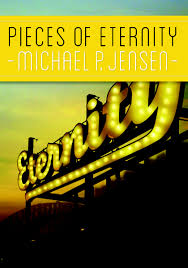 I like it when articles which have been previously published in series for newspapers, magazines or blogs are combined to form one collection. In this case, they have been taken from several issues of Eternity magazine. While they are thought-provoking as stand-alone articles, bringing them together enhances their impact by enabling us to see how they complement and reinforce each other, something we don't always grasp when they are kept as single articles in different dated editions.
Observations from the secular world of media, politics and current affairs are arranged to verify the timeless words and precepts of the Bible. The author, Michael P Jensen, an Anglican theologian and pastor, is a man clearly familiar with current trends of thought, including the work of noteworthy atheists. It's a pleasure to see his well-crafted writing reveal a God whose strong but subtle fingerprints permeate creation, including the world of work, where we don't necessarily think to look for him.
The thirty-six essays are divided more or less evenly into five subheadings:
The God Who Laughs and Loves
The Order of Things
The Book of the People, the People of the Book
Watching the World
Living in the Grit.
It is not designed to be read superficially or quickly.   I don't think we'd be able to do so if we tried. When a book designed to be pondered seriously and mulled over is read in the spirit in which it is written, it's bound to spark further reflections from each of us. I'm sure I'll return to these essays in the future.
'Pieces of Eternity' is published by Acorn Press and can be purchased at acornpress.net.au or from Koorong (also available in eBook format).
Reviewer: Paula Vince