RiseVibes: Suzannah's Gold by Carol Preston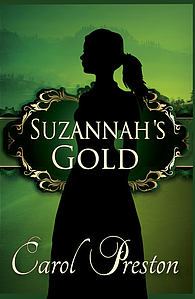 This is Australian historical fiction based on characters from the author's family and our country's early history. The story opens in Sydney in 1838 with Caroline Chisolm pursuing her mission to save innocents from abuse and degradation. Thirteen year old Suzannah Casey arrives in Sydney Harbour from Ireland after 9 months at sea and is assigned to a workhouse.  Soon after she is taken in by Missus Chisolm who teaches her all she needs to know about taking care of a household and organises for her to go into service in Goulburn Plains with recently released convict George Oakes.
George is gentle and kind and treats her as a friend rather than a servant and in time they marry and start a family. But life is hard and not everyone is as kind as George. Suzannah has to deal with trauma, loss and abuse at the hands of others.  And when gold fever starts to spread even her husband abandons her in search of a fortune.
Around her neck Suzannah wears a locket with a Bible verse inside.  It is a gift from her mother. But her memory of her last evening in Ireland before being deported carries with it fear and uncertainty – is her mother alive or is she dead? Will she ever hear from her family again? Throughout her experiences Suzannah carries with her, along with the locket, a strong faith that God is with her no matter what and despite the circumstances she is determined to trust him.  She is also determined to stay faithful to her husband when he is off searching for gold while those around her believe she is within her rights to make a new life for herself.  Her younger sister Mary Anne joins Suzannah in Australia and for a time adds to Suzannah's workload and worry.
Historical Australian events are highlighted throughout the story by news articles and letters – bushfires, floods, bushrangers, politics etc give context to the lives of Australia's pioneering men and women, personified by Suzannah, George and their community.  There is also religious bigotry which Suzannah confronts in her own firm but gentle way.
The story does not unfold in the way you would expect, and while there a periods of joy there are also times of great pain and distress.  Suzannah delights in her family and in friendships which are often maintained over great distances. Her faith keeps her strong even when her body is weak, and her story is one of sacrifice, perseverance, hope and love. If you enjoy historical fiction, or you are particularly interested in how our early settlers lived and the legacy they left for us, then you will find this story engrossing.
'Suzannah's Gold' is published by Even Before Publishing and can be purchased at lightthedark.com.au. Also available in eBook format.
Reviewer:  Wendy Rush