RiseVibes: The Pounamu Prophecy by Cindy Williams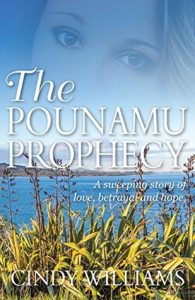 Like many Australians I love visiting New Zealand, exploring the beautiful and varied countryside and admiring the Maori culture. I suspect that I am also like many other Australians when I confess that I know very little of the history of white settlement in NZ and the injustice that the Maori people have had to endure.
The Pounamu Prophecy draws on this history and weaves it expertly with a modern tale of trust, betrayal, forgiveness and reconciliation. The story opens in December 1951 with young Mere, confused and distraught at the loss of her teddy bear, watching from the arms of her grandfather as their village burns.  Mere and her family, like many others, faced forced eviction from their traditional homes into state owned housing and saw friends and family members, including Mere's older brother Rewiti, die from sickness caused by swimming in putrid waters polluted by the nearby sewerage works.
The child Mere is resentful at the losses her family has had to bear and lashes out, but as she grows up she finds a more productive way to fight for land rights for her people – studying law and also helping to feed and support the crowds of people who came together at Bastion Point in protest.
The website nzhistory.govt.nz says the land at Bastion Point, Auckland, was given to the Crown by the Maori tribe Ngāti Whātua as a defence site during the Russian scare of 1885. In 1977–78 a 506-day protest against a proposed Crown sale was held there.  Ten years later, in 1988, the Waitangi Tribunal supported Maori claims to the land and it was returned to the original owners.
But this is not a story of hate and regret, rather it highlights the importance of forgiveness and reconciliation in making a new way forward for current and future generations.
Intersecting with Mere's story is that of young married couple Helene and James who are trying to build their respective careers in Brisbane but in the process their marriage threatens to fall apart. Then in walks Maori woman Mere, a friend of James' mother who comes to stay with them, looking for a quiet place to finish writing her memoir. Mere's presence has a stabilising effect on Helene and helps to bring her focus back to what's important – her relationship and her vocational calling.
While it's easy to label Helene and James as foolish or fickle, their experience reminds us how easy it is to find ourselves in trouble when we take our eyes off what is really important in life. Saying yes to a small indiscretion can potentially lead to the loss of everything we hold dear.
At varying times as I read, I cried with Mere and her family and railed against Helene and James and the paths they were threatening to take. I was fascinated by the Maori history and culture (and greatly assisted by the glossary of terms at the back of the book).
The title of the book, The Pounamu Prophecy is explained towards the end, when the author takes each thread that has been woven throughout the story and deftly ties them all together to produce a brilliant and uplifting conclusion.
This is a really good read – at times sobering, always engaging and ultimately full of hope.
 'The Pounamu Prophecy'  is published by Rhiza Press and can be purchased at rhizapress.com.au or from Koorong (also available in eBook format).
Reviewer: Wendy Rush