RiseVibes: The Songs of Jesse Adams by Peter McKinnon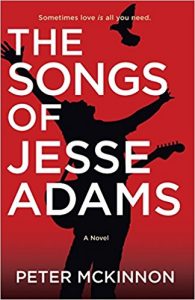 It doesn't take the canny reader long to realise that Jesse Adams is an analogy for somebody else. His story evokes how the four New Testament gospels might have looked, had the events taken place in Australia in the volatile 1960s instead of ancient Palestine.
Peter McKinnon uses strokes of genius to translate Biblical events to a more modern and local setting. Jesse is a talented singer/musician and his band is originally comprised of hard-working shearers willing to give the spotlight a try, as they are down on their luck. It's intriguing to match this novel's characters with their biblical counterparts. To mention just a few, the apostle Peter is the loyal and spontaneous Big Al, and you'll recognise James and John, the Sons of Thunder, in Johnny and Dean Moyle, the 'Chunder Brothers.' Annie Martin, a burned-out journalist who senses something special in Jesse, is this story's Mary Magdalene. Melbourne becomes the Jerusalem Jesse breaks his heart over. Then there's Flash, the Judas character, with his gripe that Jesse refused to sign a recording contract. And the Last Supper takes place in 'The Doubtful' hotel, after which Jesse retreats to the beer garden. He is crowned with the unofficial title of 'King of Pop' instead of King of the Jews. His songs, of course, are this story's version of Jesus' parables.
I found reading this story in a twentieth century, Australian setting extremely moving. It challenged me to wonder if I would have willingly followed Jesus, as I was always certain I would. Reading this book makes it harder to fault those ancient people who decided to turn away from Jesus without at least understanding the position they found themselves in. It's easier to sense the clout and power the ruling class and Pharisees would have wielded, presented in the form of three formidable men; Timothy Grady, the Cleric; Frank Pigdon, the Premier; and Bob Craven, the Media Mogul, each with their own reasons to want to silence Jesse Adams permanently.
The character of Jesse must have been a challenge to fine-tune perfectly from start to finish. At times, I felt he might have been unduly taken by surprise by some of the lines his detractors delivered to him, while at other times he seemed to lash out rather more reactively and emotionally than I would have expected. Then, at other moments, I wondered at his letting others talk him into their plans against his better judgment. Still, other readers may well disagree with me. As the historical Jesus caused stirs, rifts and factions wherever he walked, it seems reasonable that the character Jesse Adams may well do the same.
I recommend this thought-provoking book to anybody willing to read the familiar gospel story in a fresh and imaginative way. Prepare to have your pre-conceptions challenged.
'The Songs of Jesse Adams' is published by Acorn Press and can be purchased at acornpress.net.au. Also available in eBook format.
Reviewer: Paula Vince