RiseVibes: Dancing with Angels: The Life Story of Stephen Than, Archbishop of Myanmar by Alan Nichols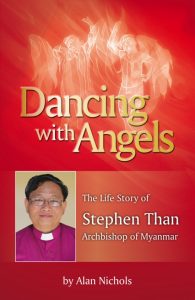 Stephen Than's life could easily be a movie or action packed novel with its story lines of poverty to power, rejection to acceptance, unjust imprisonment, torture and angelic visions – set amidst the cultural tension and political unrest of Burma over the past sixty years.
It recounts true stories of student uprisings and arrests, martial law and massacres, resistance fighters, refugee camps, informers and surveillance.
Stephen was born into a Christian family although he was surrounded by Buddhists in his extended family and in his home village. He went to the Anglican school in the capital Rangoon where more than one-third of the students were Buddhist and from a range of cultures. He then joined the air force and had almost finished his engineering training when he was arrested for 'damaging the state' and accused of being a secret agent for the Karen resistance army. After two traumatic years in prison he was released only to be rejected by everyone for fear of the army intelligence who shadowed him. But he held onto the promise of God that he had received through a vision while in prison.
Of this time he says, "God was a living God for me, and in prison for the first time I reviewed my religion, my faith up to that point, my past life as a traditional Christian. Faced with torture and death, I first asked myself, 'Where is your belief and faith?'"
The book covers his recovery and marriage, his many years of study and lecturing, his appointment as Bishop of Hpa'an and eventually his election as Archbishop. It was during a retreat for several bishops in 2013 that he experienced, two nights in a row, the angels Gabriel and Michael speaking to him. It convinced him that 'God is with us. The angels are with us. As the country changes and democracy comes, and whatever happens, God is with us every step of the way.'
The author tells Stephen Than's story in the third person which somewhat diminishes the drama of this extraordinary life. However it must have been challenging to distil the information from five hours of interviews into this small book. It is a succinct story of Burmese history through the life of a Po Karen boy who became the Anglican Archbishop of Myanmar. It tells not only his life story but his theology, his vision for Myanmar and his hope for the world.
'Dancing with Angels: The Life Story of Stephen Than, Archbishop of Myanmar' is published by Acorn Press. It is available in paperback from Koorong (online and instore) or order from Acorn Press direct at acornpress.net.au.
Reviewer:  Cindy Williams