RiseVibes: Hope: Songs of Faith and Inspiration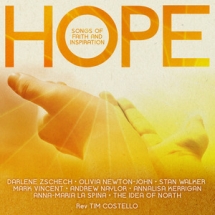 Launched at a series of 'Breakfasts of Hope' across Australia in 2012, the project was first conceived 7 years before by co-producer Andrew Hagger.  Andrew was concerned that people are surrounded by so much negativity and he felt strongly that we all need to hear the voice of Hope.  The CD is 'book ended' by comments from Rev Tim Costello, CEO of World Vision Australia.  The songs are a mix of traditional hymns, pop songs and original numbers tailor made for the Hope CD.
There is enough variety for almost everyone to find a favourite amongst them.  From the beautiful, stripped back acoustic version of 'When I Survey the Wondrous Cross' by Andrew Naylor, to the a cappella rendition of Sarah McLachlan's 'Angel' delivered brilliantly by The Idea of North.  One song that has become a fast favourite of mine already is 'Ever Lifted', sung by former Savage Garden backing singer Anna-Maria La Spina.  Other artists featured are Olivia Newton John, Darlene Zschech, Stan Walker, Mark Vincent and Annalisa Kerrigan.  Having had the privilege of hearing live performances from Anna-Maria, Mark and Andrew at the Adelaide breakfast I was left with a feeling that they really believed what they were singing and this sense of authenticity has translated into the recording as they sensitively communicate the message that, though we live in a broken world, there is hope and it is within our reach.
Available from ABC Music, Koorong and other retail outlets.  Part proceeds of the sale of the CD go to World Vision.
Reviewer: Wendy Rush