RiseVibes: Attitude is Everything: the story of an extraordinary life by Nick Vujicic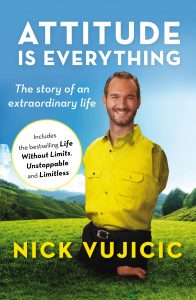 This book is actually three in one and includes Nick's bestselling titles: Life Without Limits (2011), Unstoppable (2012) and Limitless (2013). I heard about Nick, who was born without arms and legs, some years ago and have long been curious about how he negotiates his way around a world that is designed for people with a complete set of limbs. When I saw this 700-odd page book I admit I did hesitate, but not for long. I am glad I read the books in order of publication as each one progresses Nick's story and you can see the development of his faith, his life and his ministry throughout.
After reading about Nick you will be convinced that attitude really is everything and that any limitations you think you may have can be overcome by looking at what you can achieve rather than what you can't and, in particular, by looking to your Creator to understand your purpose. Nick has a strong Christian faith and an outrageous sense of humour. The book takes you through the grief his parents experienced at giving birth to a child without limbs when there was no prior indication that anything was wrong, and the despair that Nick himself felt as a boy when he believed his life could not amount to much because he didn't have all the body parts that his friends had.
His parents Boris and Dushka dedicated themselves to ensuring their son was treated no differently to any other child his age, which instilled in him a desire for independence and the courage to face, and subsequently overcome, significant obstacles including a school yard bully! His parents' faith was a great example to him and it was his own faith that led him to accept his uniqueness and to look to God to find his purpose. He is now thankful he was born without limbs and says he lives a 'ridiculously good life'.
Nick wrote Life Without Limits when he was 27 years old, which makes him still only in his 30's (at the time of writing this review) and I was amazed at the experiences he has had and the lives he has touched at such a young age. From speaking at the World Economic Forum to sharing the gospel with prostitutes in the slums of India, he has a wonderful gift of relating to people in so many different circumstances. The message he brings is one of hope and it is not just his life that speaks to us, Nick also shares about the people he meets that inspire him, for example a legally blind award winning photographer, a paralysed yachting instructor and a little boy called Daniel who was also born without limbs.
The first book concludes with a personal action plan which encourages you to delve deeper and relate your circumstances back to Nick's message of hope. The second book reveals his growing global ministry, business ventures and his ever deepening faith. Now married with children, it is also a love story about how he and his wife Kanae came to be together. The third book contains 50 Christian devotionals and draws on material from the previous two.
There are some wonderful photographs of Nick, the people he has met and places he has visited – including of him surfing and scuba diving. (He also skateboards and plays the drums).
Born in Australia and now living in the US, Nick Vujicic is the most inspiring person I have come across and what he has to say is relevant to everyone. Whatever your circumstances, God is always present. Whatever trials you face you were created for a unique and specific purpose. Wherever you find yourself and whatever others say about you, your life has value.
It is a book (or books) that I will refer back to for inspiration time and again.
'Attitude is Everything' is published by Allen and Unwin and can be purchased at Koorong (online and instore).
Reviewer: Wendy Rush