RiseVibes: Love without Limits by Nick Vujicic with Kanae Vujicic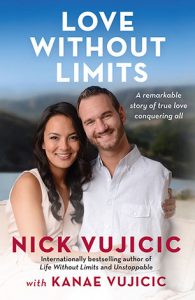 Nick Vujicic is an Australian now living in the US. In this book, he and his wife Kanae tell the story of how they met, fell in love, married and began a family together. What makes this story remarkable is that Nick was born without arms or legs. Growing up he despaired of ever finding a woman that would love him and he felt that he would never have the capacity to be a husband and support a family. But thankfully, God had a different plan for his life.  Like any other young man or woman, Nick had a desire to love and be loved by that special someone, but for one reason or another his relationships didn't work out. Even when he met Kanae there was misunderstanding and miscommunication which Nick, in hindsight, likens to a romantic comedy. Over time Nick and Kanae found they had a very strong connection and they both wanted to be together. Occasionally Kanae steps into the story and gives her perspective on the relationship and their journey together.
This is a remarkable and inspiring love story which will provide great encouragement to anyone who desires love but thinks they are unlovable. It also contains some great advice, not only for those looking for love, but those who are looking at building a marriage, a home and a family.
Nick and Kanae admit they are still new to marriage and that they are far from experts in the field. However, their unique circumstances (Nick's lack of limbs, and his work as an international evangelist in particular) have meant that they have learned much that readers can relate to and take inspiration from.  Each chapter of the book focuses on certain aspects of the search for love which many of us will find familiar.  There are questions to contemplate when meeting someone who you think might be 'the one', some things you should talk about before jumping into proposing, matters of faith, sex and abstinence, a reminder that marriage means constant work and negotiation, a 'survival guide' for the first year of life with a child, even ideas on how you can make your proposal and wedding personal and unique.
The book is peppered with humour and amusing anecdotes as Nick, in his usual style, refuses to take himself too seriously. Nick and Kanae's relationship is living proof that it is possible to experience 'love without limits' and their story is a testament to a loving God who desires much more for us than we could ever imagine for ourselves.  'Love Without Limits' is a beautiful story of faith, hope and love.
'Love Without Limits' is published by Allen & Unwin. It is available in paperback from Koorong (online and instore).
Reviewer:  Wendy Rush