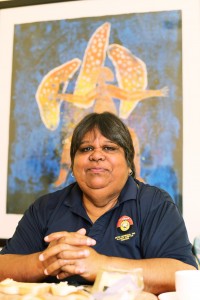 On Saturday 20 June 2015 hundreds of people gathered together at the Adelaide West Uniting Church to witness a landmark celebration. Rev Denise Champion, an Adnyamathanha (Flinders Ranges) woman, was the first Aboriginal woman to be ordained into Christian ministry in any denomination in South Australia.  Denise talks to RISE about her journey, her culture and her passion for reconciliation.
Interview by Belinda Taylor. Article by Wendy Rush.
"When I was about four Mum and Dad moved to Quorn in the Flinders Ranges from a sheep station where Dad had been working as a station hand. It was mainly so we children could go to school.  Even though Mum and Dad didn't go to church themselves until much later, they would get us ready and send us off to Sunday school every week.  This was the foundation for my Christian faith.  From then on, wherever I went I always had a connection with the church"
In the late 1970s Denise moved to Adelaide to attend Norwood High School for a year and lived in a hostel in Magill which was supervised by Christian house parents. She was invited to attend a gospel rally with evangelist Cliff Barrows in the town hall one night. During the evening people were given an opportunity to go down to the front of the hall if they wanted to make a decision to follow Christ.    "I was about 12 years old.  I had twin sisters either side of me digging each other in the ribs and saying 'you go first'. I  found myself down the front being led through the 'believer's prayer'."
Denise moved back to Port Augusta and finished year twelve at Port Augusta High School.  One of her teachers, Graham Wright, was a Christian. Together with some music teachers from the junior high school who were also Christians, Graham formed a musical group at the school which flowed over to the church. Denise and her sisters became involved in what was then a very unique initiative.
"They had this very good perspective on involving young people in worship. Attending mainstream churches has been a challenge for Aboriginal people and you don't see many in mainstream churches. But the Uniting Church in Port Augusta has worked very hard on their relationships with Aboriginal people. "
Living in nearby Quorn Denise recalls there was already an acceptance of Aboriginal people in the community.
"Quorn was where my faith journey began and  I haven't really gone too far away from it. In 2002 I went back there as a temporary minister for 12 months. My old Sunday school teachers were still there, the superintendent was still there, so I went back the returning student. It was a very exciting thing for me to go back there and I was kind of thanking them for giving their time and their gifts, making sure the children in their community learnt the basics about Jesus."
As time went on Denise became more and more involved in church related activities. "When I was in my late teens and early twenties I studied at a Bible training institute. That really gave me a good opportunity to sit under some ministry lecturers. I found I really enjoyed that. The things that I was learning just whetted my appetite for wanting to do more."
Denise married and had children and when her husband, a pastor, graduated from Bible college the family moved to inner city Melbourne for five years, working with the Aboriginal Evangelical Fellowship.  From there they went to Ceduna in South Australia for five years, once again working with the Aboriginal fellowships. The family then ended up back at Port Augusta.
"Because we had made a connection with the Congress (the Uniting Aboriginal and Islander Christian Congress (UAICC) – an association of Indigenous peoples within the Uniting Church) while we were in Ceduna we found ourselves relating to the Uniting Church in Pt Augusta when we went back. I joined the ministry team there so that was part of my mentoring by people in that church, and I learnt to become a leader in worship and then other Aboriginal people started to come. One of the reasons was that there was Aboriginal leadership upfront and people felt comfortable to go to that church and they still do today.
"During the 1990s there was this growing awareness that we needed to have our own place for Aboriginal people. In Port Augusta Aboriginal people make up around 17% of the population so it's a pretty significant proportion but it wasn't being reflected in the congregation. We said our people needed their own space so we put a proposal to the Uniting Church's governing body to have our own worshipping congregation and as a result the Congress (UAICC) in Port Augusta started in 2002."
There have been some challenges that Denise has had to face along the way, including breaking some stereotypes.  "People thought the minister always had to be a man.  Even today there's that very strong thinking that the minister is a male, so in placing an Aboriginal woman minister we're breaking those moulds, challenging the old ideas."
Denise is clearly passionate about growing young Aboriginal leaders and about cross cultural education for non-Indigenous people. Out of that has grown the 'walking on country' pilgrimages.  "I take people up into my country and along the way I've started to question how we do theology so I've written a book that looks at what our theology, our faith perspective is. The preamble of the Uniting Church's constitution has given us the freedom to do that. It states that God was always in this country since time immemorial and sustained the First Peoples through their stories, culture, songs and ceremonies.
"I asked myself the question 'how is God doing that?' Being able to sit with that question and think about it and apply it to other things that I've learnt along the way, that's something I knew God had done for my life.  I started to see God from an Adnyamathanha perspective and I wanted to share that. So we take people up into country and do the story telling of the land. We let the land tell us the story and we uncover the hidden stories that are there."
Denise is committed to helping First and Second Peoples find a path to reconciliation and she believes that God is using her in that area.
"Reconciliation comes through the building of relationships and what we do in our pilgrimages and in our association with the Uniting Church is a way of working on our relationships. We've created space to lament over the past, to be able to grieve, to say sorry and to heal. We've created a space and new opportunities arise for us to do that, through things like the pilgrimages. It's not only the Adnyamathanha pilgrimage, we now have the Kaurna pilgrimage. And hopefully we will be able to connect other groups up to be able to take people out. There are already Aboriginal people doing cultural tours and white tour operators, but the pilgrimage is something different. It's a learning opportunity – where people commit themselves to learn and see things differently."
The popularity of the pilgrimages has grown to the point that it is becoming difficult to keep up with the demand. Denise believes that they are important as a path to reconciliation, and also learning where God is in her country. Her desire to serve the church in this way has grown, as has her desire to serve her own people.
"It's important for my own mob, my own Aboriginal people, it gives them ownership. They're able to go back on country and they're able to tell their own story again and they know that people will listen. That's transforming, that's a new thing that God is doing in people. People are able to see the Biblical story afresh, through our very old oral tradition, storytelling. It has surprised me. Anything that God does, it's surprising. When I look back on my faith journey I think, how could God take this little Yarramundi girl to here? Obviously there is something that God is wanting to do through pilgrimages. My passion is to pass on that knowledge to the younger people, helping them discover their faith and discover their culture as well."
Denise wants all Indigenous and non-Indigenous Australians to participate in the reconciliation process. "Come with us on the journey. Come with us on a pilgrimage and let the land speak, and let the people speak. That's the title of my book: Yarta Wandatha: The land is speaking. The people are speaking. When you come with us and you hear our creation stories, you'll hear the most ancient voice of God speaking."
 Denise was a guest speaker at the Uniting Women Conference in Adelaide in April 2016 unitingwomen.org.au.
Denise's book 'Yarta Wandatha' can be purchased by contacting Bev Freeman on 8236 4243 or bfreeman@sa.uca.org.au.
Rev Denise Champion is the Deacon of the Port Augusta Uniting Aboriginal and Islander Christian Congress (UAICC) and Chairperson of of the Congress in South Australia. The Congress is formally recognised as having responsibility for oversight of the ministry of the Uniting Church with the Aboriginal and Islander people of Australia. She has been challenged  in her work in facilitating reconciliation between First and Second Peoples, to create a safe community. A community where people can come together, sit and talk, and experience healing and forgiveness for the past, finding a new destiny together.