By Astrid Priest.
Christmas is wonderful, it is really wonder-full; a virgin mother, a baby born in a stable, shepherds hearing the news from angels and wise men travelling from afar to visit this new born King – this is how God makes something special. There is no wonder so many carols were written celebrating what happened that first Christmas.
Christmas deserves to be celebrated for its real meaning. The gift of eternal hope wrapped in the tiny baby of Jesus. We should be singing this from the roof tops!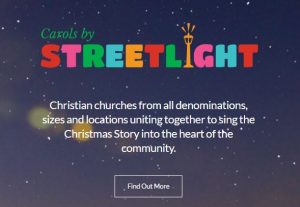 Carols by Streetlight is an initiative to bring Carols back into our neighbourhoods. It is a movement within Christian churches of all denominations, sizes and locations right around Australia, singing the Christmas story into the heart of the community. It was launched nationally last year with wonderful community connections being made. This year promises to be even bigger and our prayer is that this will continue to grow, until Australia is drenched with the true spirit of Christmas each year.
We have been really blessed with fantastic promotional opportunities such as this one (RISE magazine). We have had radio interviews and promotions being aired right around the country, we have been asked to write several articles and had our flyers included in school and church newsletters as well as carol services nationally. We are really excited by how much support we have received and the excitement of those we've shared the idea with. We have been encouraged enormously by the positive feedback that has been given as well. We can truly say that God has blessed this initiative and we are blessed to be a part of it.
One thing I love about Carols by Streetlight is that it is so easy to get involved. It is as simple as getting a group of people together and going for a walk through the streets singing Carols that share the true meaning of Christmas in the week leading up to it. You don't need to be a great singer to be part of a group, we found that a group of around 10 people was a very comfortable size for any singing ability. It is also something that can be done by all ages, we have grandparents and little children come along and everyone enjoys it.
We would love you to organize a group this year and help us spread the movement across Australia. Visit our website at www.carolsbystreetlight.org and let us know where you will be singing by entering your suburb on the map. This way we can encourage each other and see Australia be blessed with the sound of Carols. We pray that the true meaning of Christmas will be celebrated right across our wonderful nation.
Join us. Together we can make a difference by taking our joy to the world at Christmas.
Visit caroslbysteetlight.org for more information and please find us on Facebook, Instagram or Twitter and share us with your friends, family and churches.