Article by Melinda Tankard Reist.
This article is just a small extract from the second of Melinda Tankard Reist's reviews of  magazines for girls and young women, published by  Generation Next.  
For many girls, the magazines they read are their lifestyle bibles. How should they look, dress, act and relate? What's important in life? Who should they look up to? My analysis of the November issues of Girlfriend, Dolly, Girlpower, Disney Girl, Little Angel and the October and November issues of TotalGirl shows that girls are being delivered a mostly one-dimensional, generic and limited view of girl/young womanhood. The emphasis is on looks, fashion, beauty practices, consumerism, gossip, and celebrity culture. The little girls' magazines provide early socialisation into the popularised teen world of clothing, make-up, sex and celebrities. I'm especially disturbed by the encouragement given to very young girls, through the advice sections, to have boyfriends.
Girlfriend
GF's 'Self Respect REALITY CHECKS' are just getting weird. They seem to be dropped in at random, even when not all that relevant. In this issue there's one on the front for Emma Watson. Emma's image, we are told, was purchased before Emma cut her hair. So what? How does that address body image dissatisfaction and provide a 'Self Respect REALITY CHE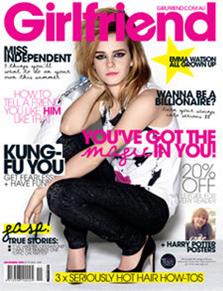 CK'?
An inside feature, "I believe…", about girls with a variety of religious beliefs, also has a 'reality check'. The magazine declares that 'we did an online call-out for readers of different religions to participate in this story and these are the girls who stepped forward.' Perhaps that's worth stating. But is it about self-respect? There's three other 'reality checks': 'Readers, not models, were used in this shoot' (x2) and a 'check' showing the time that models spent in hair and make-up. So that's five checks, only two which have any relevance to GF's originally stated intention of getting real about body image.
And why is the advertising exempt from 'reality checks'? This is where we see the bulk of skinny, air-brushed, flawless women.
The Billabong ads are a paean to summer body perfection. The advertised bikinis may as well be marked size T – for tiny. There's virtually no body diversity in GF's advertising. Advertising should not be treated as somehow exempt from the magazine's stated intention that it is 'getting real' about body image.
We meet the winners of the 'Face of Fing'rs 2010' competition. Kharla is 14, Jessica 15. For some reason the stylists have plastered them in fire-engine red lipstick, the intensity of which would make a clown's mouth look pale. It makes them look much more adult than they are.
Speaking of models, we also meet past winners of 'Girlfriend of the Year'. I'm not a fan of modelling competitions, but at least new applicants are asked to write about their dreams and how they want to achieve them. This year's winner was fashion designer Iman Krayem, who is wearing a head covering (and, somewhat in contrast, holding what appears to be lingerie). Perhaps GF wants to show it does want to represent a range of women. Having said that, most of the women in the magazine are standard-bodied white Anglo females.
Advertisers must be aware that very young girls are reading Girlfriend. There's an ad (here and in the other mags reviewed) for 'Fashion Paradise', inviting girls to 'become the ultimate fashion expert' and organise fashion shows and open glamorous boutiques. There are figurines available for this product, which look to me like they would appeal to girls around 8-11.
Other advertising, for example for Garnier, was presented as a four-page feature when it was really an advertorial.
The Good Bits
I was very pleased to see the piece 'Dying to Drink' which discusses the rise of Vodka as the drink of choice for teenage girls. The article confronts young women with the risks and harms of Vodka consumption and shatters the myth that it is less risky than other alcoholic drinks. Paul Dillon, Director of Drug and Alcohol Research and Training Australia – and one of Generation Next's speaking team – makes a sobering statement: "The last five deaths that I've been involved with were all female school students aged 16 and 17 and all fatalities were vodka related." Now that's a reality check. If GF ran more articles like this, I would commend it publicly and loudly.
Other positive and helpful articles: one on how to save money (a welcome inclusion would have been 'reduce spending on hair, cosmetics and other grooming products which you mostly don't need'!); a recommendation to volunteer your time, how to manage family stress caused by financial pressures and how you can help ease the load at home (assist around the house, look after your belongings, earn your own money). I like that girls are situated within their families, and are encouraged to contribute positively, especially when times are tough.
A piece on safe driving features a short video created by 14-year-old Maddy Frahm.
The 'Get Real' section contains true stories which will hopefully inspire girls towards empathy ('I was bullied by thousands', 'I've had 101 operations') and making a difference in developing countries ('We volunteered overseas').
Then it's back to hot boys and crushes and how girls and boys aren't from different planets, 'just different hemispheres'.
Jessica Mauboy is here too – she was featured as a fresh-faced teenager on Australian Idol and has now been rebranded as the new 'It girl', having returned from a trip to the United States where she was made-over by some of the most misogynist male rap artists in the industry (that fact isn't mentioned). GF describes Mauboy's new single as 'a flirty tribute to every girl's number one love – shoes!'. Oh please, every girl?
Not so good: Why is mental health in the sealed section?
This issue includes a very important subject: 'The truth about mental illness'. The article covers anxiety disorders, depression, eating disorders, bipolar, borderline personality disorder and schizophrenia, along with treatment, recovery and helplines. This is great. But why is it in the sealed section? What does that suggest about being mentally ill? That it is something that should be hidden? I'm at a loss to understand this placement decision.
Read more from Melinda at melindatankardreist.com
---
This article was first published in the August 2011 glossy edition of RISE magazine. See back issues here.