RISE editor Wendy Rush met 2011 MasterChef winner Kate Bracks at a City Bible Forum event in Adelaide where Kate shared something of her faith, her passion for food and her Australian reality television experience.
Everyone with a television has heard of MasterChef and if we are all honest we have watched an episode or two, maybe more, since 2009 when it began airing on Australian TV. The show has been a major success with those aspiring to be chefs, those who just want to be really good cooks and those, like me, who are neither but are very curious to understand what makes some people deeply passionate about food and cooking.
Where do these people come from? What makes them leave their families and set aside their lives for months on end to perform under intense scrutiny, in a pressure cooker of an environment and in front of an audience of millions? And where do they go when their time on the show comes to an end? Every contestant has a different story to tell. Kate Bracks, winner of MasterChef Australia 2011, is always happy to tell hers.
Unlike many MasterChef contestants, Kate had never been driven to become a chef. In fact as a child she says she didn't display a love of food at all. On the contrary she was a very fussy eater. "I was one of those children who hated vegetables, ate only one type of fruit and one type of meat and refused to try anything new."
Like many children (and I admit to my own guilt here!), no matter what we struggled to eat for mains and no matter what tactics we employed to avoid eating the likes of peas, carrots and spinach, we always managed to find room for 'sweets'.  Kate was a great lover of sweets, recalling how she used to gather up crumbs from plates, lick bowls clean and ferret out anything sweet that was hidden away in her Mum's pantry.
When Kate was eight years old, one day during the school holidays her mother suggested she go into the kitchen and cook something to relieve her boredom.  Having grown up with TV cooks like Peter (G'Day) Russell (G'Day) Clark, she set about making her own TV cooking show, measuring out the ingredients and demonstrating how to make a coffee cake. It was her family's response that had her hooked – they loved her cake and their appreciation motivated her to continue to cook.
Originally a primary school teacher, Kate and her husband moved from Sydney to Orange, NSW then, as a full time stay at home Mum with three children, she became aware of a new cooking show coming to our small screens. By the time she got around to applying online she did not seriously think she would be selected. But she was and the rest, as they say, is history.
Kate was concerned that appearing on MasterChef might kill her love of cooking, but she says the experience actually deepened it. "The more you learn, the more you realise you need to learn."
When she talks about her passion for food, Kate views it as a tool to be creative and bring people together. "When I sit down to a meal it is less about the food you eat and more about the time you spend together." But as much as her relationships with family and friends are important to her, she says "my relationship with God is far more important than anything else."
Kate grew up in a Christian family and as a child she attended Sunday School and was read Bible stories. When she was in her twenties she began travelling overseas and, she says, she stopped living with any reference to God. She felt she didn't really need him. But on coming home she started to feel that her life was empty, that there was more to life than simply going out and having fun.
As she contemplated the purpose of life, she didn't want to presume that the God she had grown up with was the only way, so she explored a lot of other religions and philosophies over a couple of years. "What I ended up finding was that the God of the Bible was the one who seemed to have all the answers to questions like: Who am I, why am I here, what is my purpose in life?"
As an adult, Kate started to understand the true meaning of those Bible stories she had heard as a child. She emphasises that the most important thing about her Christian faith is her relationship with God. It is not, she says, about a list of things to do or not do. "So often we think sin is murder, cheating, stealing. I see those as the side effects of sin. Sin itself is actually the rejection of who God is. It's not about going to church, it's about being in a relationship with God."
Kate recounts a particular episode of MasterChef where the contestants were challenged to cook for the Dalai Lama. They were called to a meeting to discuss the protocols involved and were told that the correct way to address the Dalai Lama was 'Your Holiness'.
"As a Christian" said Kate "I have a bit of a problem with this because my understanding from the Bible is that 'holiness' means 'perfectly right with God'. The only person to ever walk the earth that was holy was Jesus because he is the only one that is perfectly right with God. I couldn't in good conscience call this lovely man 'Your Holiness'. So I asked his representative if there was something else I could call him that would be just as respectful."
The response was a very immediate and very off-the-cuff, "you can call him Dalai Lama, he wouldn't mind that at all."
A reporter who was on set to interview the contestants about their backgrounds became aware of Kate's decision not to call the Dalai Lama 'Your Holiness', and all of a sudden that became the story. The contestants were cut off from all media during their time in the MasterChef house, so Kate was unaware until some weeks later that the story had grown into something quite controversial – even making it onto the TV talk show 'Can of Worms.'
"I have no regrets because my loyalty lies with God ahead of other people. I still feel I was respectful to the Dalai Lama. We had some lovely interchanges that day and he didn't appear to have a problem with it."
Kate admits that she wasn't aiming to win the competition, in fact she harboured a little bit of fear at the thought of winning. She explains her experience as like being on a big emotional roller coaster which was made more difficult by being away from her family, friends and church for months on end. God was the one constant in the whole uncertain experience which kept her grounded and put the reality television experience in perspective. The producers were a little taken aback when Kate told the other contestants that life is bigger than MasterChef! She says, though, that her journey through MasterChef has been incredible and it has taught her to keep trusting in God because he keeps providing for her. This knowledge gives her an amazing comfort through all circumstances.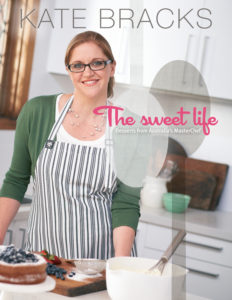 Post MasterChef, Kate's life has been exceptionally busy, with cooking demonstrations, public speaking engagements, media appearances and (at the time of the interview) the challenge of writing her first cookbook The Sweet Life: desserts from Australia's MasterChef, published by RandomHouse. The book starts with some basic recipes for sauces and syrups, and then moves beyond the basics into tantalising dishes such as strawberries in dessert wine syrup with crushed amaretti, or peanut and salted caramel sundae. Kate laughs when she points out that she has never been known for so called 'nutritional' cooking, but she is a strong believer in using local produce, which is plentiful around her home on the outskirts of Orange. Kate draws inspiration from other chefs, but her ambition doesn't lie so much in the commercial kitchen, but rather in the humble country B&B.
One of Kate's lasting memories is her experience of welcoming hospitality at bed and breakfast accommodation while travelling through Ireland as a teenager which has sparked in her a desire to show similar hospitality to others. "The warmth of fresh food from the oven; a refuge for weary souls; perhaps even strangers becoming friends – this is what I have been dreaming of for many years."
Since this article was written Kate has installed a commercial kitchen in her home in Orange and has established her own business, Kate Bracks Baking. Her book 'The Sweet Life' can be purchased at all good bookstores, online and in store.
---
This article was first published in the December 2013 glossy edition of RISE magazine. See back issues here.