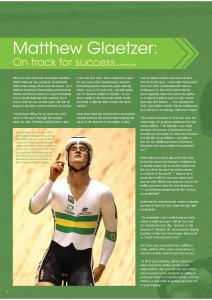 By Wendy Rush
When 22 year old South Australian Matthew (Matt) Glaetzer was young he would build BMX jumps along a river near his house.  As a child he dreamed of becoming a professional athlete and tried a variety of sports including soccer, basketball and pole vaulting, but it wasn't until he was sixteen years old that he began to develop a serious interest in cycling.
"I have been riding for six years now and came to the sport through the annual Weet-Bix Kids TRYathlon held in West Lakes. It was the first time I had competed in sport for two years after experiencing constant hamstring injuries caused by pole vaulting when I was 12-13 years old. I started racing just for fun but within six months I won a silver medal at the Nationals which made me think I might be able to take this sport further."
Since then Matt has continued to accumulate medals and records and competes alongside some of the legends of Australian cycling such as Shane Perkins and Anna Meares, who he looks up to.  He brought home gold from the 2014  Commonwealth Games in Glasgow for the men's Keirin and his sport regularly takes him across the globe to compete in places such as Italy, France, Germany and Mexico.    "But winning the 2012 Team Sprint World Title (in Melbourne) by 0.001sec is something I will never forget."
The London Olympics in 2012 was also, not surprisingly, an amazing experience for the young athlete. "The Olympics was mind blowing! No amount of preparation can actually get you ready for what the Olympics is really like for an athlete. I was able to live out my childhood dream of being an Olympian four years earlier than planned too!"
Matt makes no secret about the fact that he has his eye on an Olympic medal but he is acutely aware that as an elite athlete his life, as well as his sporting achievements, is on show to the world.  "I hope to be a good role model for my team mates and anyone who follows my career as I am in the public eye more than the normal person. If I can influence people positively, mission accomplished."
Achieving his sporting goals means foregoing the kind of lifestyle that others his age take for granted.
"On weekends I can't really hang out with mates at night because I will be too tired for training the next day.  And due to the amount of training I do, my university degree is going to take four times longer than usual as I need to be very part time."
But these are concessions he is willing to make, and he offers some sound advice to anyone working towards sporting success.
"In all of your training, take no shortcuts. Know that there will be certain social opportunities that you will miss out on but stay focussed on the end goal. Be willing to push your body to its absolute limit, a strong mind is so important in getting the most out of your training."
Matt grew up in a Christian home and made a decision for Christ when he was very young, around five years old.
"Being a Christian enables me to have peace in any situation because I know that God is with me in everything and has His plan for me. No matter how significant the challenges that come my way, I have His help to get through them.
"I know God hasn't made me a gifted athlete to just ride around in circles but to show His love to my team mates and competitors I have contact with around the world. The cycling community is very worldly and I have the opportunity to be an example of and share the love and grace of Jesus with these people.
"I really do feel that what I do isn't about winning races but letting God use me and be seen through me. It became apparent to me that being a Sprint Cyclist was God's plan for this time in my life when He gave me a revelation of the impact I could have in my team mates' lives.
"For me, what I do is all about giving glory to God through the gift He has given me."
Apart from cycling and God, Matt counts family and friends as being extremely important.
"My family is so important to me, they have all supported me so much in my sporting efforts and I am so grateful for the way my parents raised myself and my older brother Lindsay who is 25.
"My friends from school, cycling and church also have a big part in my life. Not many things can beat a good hangout with quality mates."
What is Matt aiming for in the longer term? "Sporting wise I would love to become World Champion in the Sprint and Keirin events along with breaking the World Record for the 200m Time Trial."
He has already contemplated life beyond elite sport which is something that athletes don't always think about until they are faced with the prospect of no longer being able to compete.
Swimmer and gold medalist Duncan Armstrong said that when his swimming career ended he discovered a void. "It is something that is common to top line professionals whose career, through choice or circumstance, comes to a sudden halt. There is a need to find something to replace it, but you know full well you will be going to the bottom of the ladder and virtually starting over. It can be terribly confronting"said Duncan (Rise Magazine, 'Out of the water and still making ripples', September 2010).
Matt is wise enough to realise that, even with so much sporting opportunity ahead of him, he needs to begin planning for a future beyond elite sport. "I am interested in investing and would like to develop skills in that area in the near future so hopefully in the long term I can have a strong portfolio of some kind.
"I am studying part time and working my way to becoming a physiotherapist when I retire from elite sport. A wife and a couple of kids are in the plan long term hopefully."
If Matt's cycling accomplishments so far are any indication, then his plans post cycling are sure to be successful.    One of Matt's favourite quotations is by motivator, speaker and philanthropist Nido Qubein: "Your present circumstances don't determine where you can go; they merely determine where you start." We get the feeling that Matt is destined to go far.
Read more about Matt's cycling accomplishments under 'High Performance – Rider Profiles' at cycling.org.au