Author Mal White explains how and why he came to write 'Good Dads GREAT DADS'.
It has been said that only 10% of Australian men have a close relationship with their fathers. Most men would like to think they will enjoy a life-long relationship with their children but the statistics tell a different story.
Children are the worst affected when their dads are not actively involved in their children 's lives. Many people carry what has been called a "Father-wound."
Children need the regular input and validation from their father so that their self-esteem gets the appropriate boost it needs and so they can have "dad-inspired" confidence to face whatever life will throw at them.
I wrote Good Dads GREAT DADS to offer fresh inspiration to the Dads in Australia so that our generation can make the change that needs to happen.
As a father of three boys I needed to learn what it took to be a good father so I read books from great writers on the subject such as Steve Biddulph (Australia) and Dr. James Dobson (USA).
As my boys grew and my wife and I faced the many challenges of parenting I discovered that being a dad was not an easy role. Being a dad that wanted to be the best I could be took a lot of work and at times I failed. Today I enjoy a quality relationship with my adult sons for which I am eternally grateful.
I am glad I learned from others and then applied their wisdom to my role as dad. I am now reaping the rewards of making some very wise investments into my children's lives and our relationships.
In my professional life I have had the privilege of working with families in the community for twenty-five years as a teacher, counsellor and mentor.
I witnessed first hand the personal pain many children, teenagers and adults experience either because their father inflicted some form of damage or just simply was disengaged, unavailable and never gave them the affirmation they needed.
My own father was around, and whilst I have fond memories of him he was typical of his generation in that he was a fairly closed book emotionally. So there were some gaps in his fathering that did affect areas of my life. I wanted to address these gaps in fathering my own children.
In 2007 I was at a career high, working for World Vision to establish the national KIDS HOPE mentoring program, with national leadership responsibilities and regular speaking engagements.
However, my life came to a grinding halt when on 30 April I was diagnosed with Leukemia. I was 43 and my children were 14, 15 and 17 years old. I was unable to work full time and for two years I was barely able to work at all.
During this time I was not sure how long I might live for.  But I still wanted to be doing something meaningful so I set up a blog called Good Dads GREAT DADS and started writing my thoughts and sharing my passion about how kids need their dads to be effective in their lives.
It took a number of years to get well and all the while I kept writing about ways to be highly engaged in our children's lives and their personal development. By 2013 my blog readership grew to span 106 countries.
I dedicated time to writing Good Dads GREAT DADS, the book, and in August last year it was published.  It has been so successful that we have already had to do a second print run.
Having Tim Costello of World Vision write a wonderful reflection on Fatherhood as the foreword and getting solid endorsements from the Australian Fatherhood Foundation have reinforced the importance of the messages that I have endeavoured to share in Good Dads GREAT DADS.
My aim was to make Good Dads GREAT DADS an easy read, full of personal stories and great pictures of dads engaged with their kids.
The book offers a range of practical suggestions for dads on how to build depth into their relationships with their children. It offers tips on how to really boost their child's self-belief and how to give them the confidence to do well at school and in their life's vocation.
The book is written to encourage dads to know how important they are in their child's welfare, their wellbeing and their personal development.
I would like our generation to be the one that says we will not leave a "father-wound" in our children's hearts and we will build life-long relationships with our kids.
The contents of my book are not complicated. For example; communicate your thoughts and feelings with your children, plan one to one dates or weekend getaways with them, read with your children, write a special letter or note to your child, know when and how to share your life wisdom with them and understand the unique personality of each of your children and relate to them accordingly.
We cannot turn back the clock but we can make a fresh start and work to become the father our children need us to be. None of us want to live with regrets. The encouragement is to learn all we can and then take the initiative to be highly effective in our children's lives. They are worthy of our greatest efforts and their future is in our hands.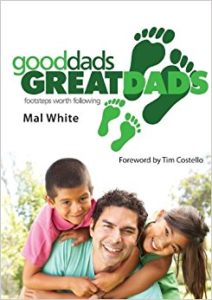 Tim Costello, CEO World Vision writes:
"Mal has tapped into a deep well of reflection and wisdom. I know that many will find this book a valuable help in enhancing their journey towards becoming great dads."
Warwick Marsh, Director of the Australian Fatherhood Foundation writes:
"Every dad in Australia needs to read this book, it could be the greatest investment you make in your role as a parent for the sake of your children."
See RiseVibes for Scott Berry's review of 'Good Dads GREAT DADS' and how to purchase.
---
This article was first published in the March 2014 glossy edition of RISE magazine. See back issues here.