By Peter McHugh
Raised a catholic, becoming an altar boy around the age of 9 or 10 and wanting to be a priest, my awareness of a spiritual world was present from an early age. As a teenager I embraced my hormones and discovered the opposite sex.  Around this time I also discovered that my intellect was capable of challenging ideas I previously accepted without question. Increasingly "the church" seemed restrictive and irrelevant and so I abandoned the development of my spirituality and embraced the hedonistic lifestyle of the 70s.
University opened up the political world to me. My leadership gift and desire/need to make a difference found full flight and was expressed through a Marxist philosophical commitment in student politics. While I was at university I met my wife and we were married.  I did not know then how ill-equipped and ill-informed I was to being able to transition from being totally self-centred to genuinely caring for a life-long partner as a friend.  The result of this was a decision to separate from Lyn in 1982 on our third wedding anniversary.
Later that same year after a powerful supernatural event I became a follower of Jesus. The change that followed was so dramatic, and the influence that Jesus had become in Lyn's life, as she too became a follower of Jesus shortly after. We didn't renew our marriage relationship quickly but over time we trusted one another and Jesus enough to rebuild our marriage but on very different foundations.
Fast forward thirty-four years later and life in 2016 is very different.  We are incredibly happily married, have three children who are all married and have given us eight grand-children. They are the joy and centrepiece of our life outside of our spiritual life with God. We are living the dream of a long marriage and the fruit it bears when loving well is the pursuit of being family together.
There are enormous challenges to loving well. We have discovered that because God is love He is the greatest teacher of how to love well. Religion and the influence of man's need for power and control have diminished the reality of Jesus into the lifeless pursuit of following an exhausting list of rules and behaviours. This distorted understanding of Christian spirituality is so far away from both the New Testament and what we have discovered as followers of Jesus.
It is our joy and privilege to lead a thriving church in Melbourne where we are both exploring and living out with our congregation of 2000 people the pursuit of Jesus teaching us to love well.
In 1990 Lyn and I, along with ten other adults moved from Sydney to start what has now become Stairway Church. The last 26 years have been both thrilling and heart breaking. We have needed to overcome incredible challenges while experiencing disappointments and failure.  We have been privileged to see countless thousands of people's lives changed and been required to navigate our way through times when damaging decisions by others have caused relational heartache. In short, we have experienced the good, the bad and the ugly of the realities of being human which has resulted in insight and wisdom to help us and others love well.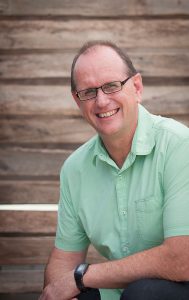 Peter McHugh has been in pastoral ministry for over 25 years. He has planted two churches and facilitated the planting of seven others. He and his wife Lyn lead Stairway Church in Melbourne. Peter's greatest joy is watching the body of Christ rise up, step into their identity and demonstrate God's love in remarkable ways. Read more about Peter, Lyn and Stairway Church at stairway.org.au.
Peter was in Adelaide to speak at LifeWell Conference 'Heaven on Earth' lifewellconference.com.au