In South Australia's mid-north, a quiet revolution is happening as a result of the collaboration of a number of churches, and the care of individuals for those who are struggling.
Article by Felicity Squires. 
Sanctuary Corner Café and Gifts is a small, unobtrusive store in the Ellen Centre carpark, so much so that the occasional customer will exclaim, "I didn't even know this was here!" You could be forgiven for thinking that the advertising team needs to step it up if newcomers are still surprised at its existence after two years of trading. God has provided this little café and gift shop with endless opportunities to help those who are struggling and feed those who are hungry both physically and spiritually.
When you take a closer look at Port Pirie's statistics, you could be forgiven for thinking the town is in trouble. Unemployment is high, drugs and alcohol are wreaking havoc on families, homelessness and health issues are occurring around each corner. You'd also be forgiven if you didn't realise that so much was happening. For many of its residents, Port Pirie's problems are kept at arm's reach inside the shadows.
But all is not lost. There are many people working to improve the lifestyle and future of Port Pirie. This humble café in the carpark is working to help combat the issues surrounding Port Pirie's residents, in particular, its youth. The café was opened with the intention of helping those on the fringes of Port Pirie have a safe place to come and sit awhile surrounded by love and compassion. It has become a refuge for many customers and staff that work each day.
It all started with a group of dedicated individuals who met for prayer weekly in 2012. This group of people wanted to help the residents of Port Pirie and build up the town. In September of 2013 the Port Pirie Christian Bookshop was asked to leave the building it was renting and by the grace of God an empty building appeared. So the bookshop moved into the current location with an empty space next door. Prayer continued for guidance as to what to do with the empty space.
In May of 2014 the café began with donations from many kind people. The coffee machine was donated by Café Connex, a café that had previously closed. The tables and chairs were donated by a church in Adelaide. The outdoor pavers and latte glasses were donated by the manager's son and daughter-in-law Lee and Kendall.
The café and bookshop are run by Barbara Jackson and staffed by a dedicated team of volunteers. The proceeds of the two shops go towards helping the youth and people of Port Pirie. In 2015 a Community Project Officer was appointed with part of the profits. Louise Bellefemini works with churches of Port Pirie as the Community Project Officer, helping local families.
High school students and young adults are given the opportunity to volunteer at the café learning skills necessary to work in the hospitality industry without the need for prior experience. Everyone is welcome and trained up in a supportive and calming environment. This training and the atmosphere allows them to excel at the skills they acquire and gain employment in the future. The management team work diligently to place people where their strengths are, allowing workers to flourish.
As a registered charity, individuals both young and old are able to work the hours required to qualify for their Centrelink payments. It can be a tough journey having to look for employment in a town with a high unemployment rate. Self-esteem gets beaten down by the constant rejection, and hope for the future dwindles. Sanctuary Corner Café and Gifts is a place of nurturing and acceptance where anyone can help out. There are always serviettes to fold, dishes to wash or vegetables to chop if front of house work isn't for you.
Although run by the churches, it is not a brazenly religious place. Christian music plays quietly in the background and a majority of the staff working each day have a faith. They are happy to pray with any of the customers or staff who are struggling at any time. Many of the young workers don't know Jesus but feel comfortable enough to ask questions of the older staff.
Sanctuary Corner is just as its name suggests, a refuge from the harsh world outside its doors. Some of the young people who work in the café have very real struggles outside of the café walls but Sanctuary Corner is a place of peace, encouragement, acceptance and love. Dylan, who has been working for a couple of months, says that to begin with he didn't want to work in the café. He was used to working in the trades but his friend told him about everyone there and how kind the staff are. He says that before he started at Sanctuary Corner he used to get angry about thirty times a day but since working in the café he hasn't even been angry thirty times.
Dylan is a different young man as a result of his time at the café. When he first arrived he was nervous about all the tasks which gave rise to his anger. With the constant encouragement, care and love of the staff Dylan has flourished and now you can see him laughing and joking with the others. Sanctuary Corner has the ability to calm you down and make you smile. You will find many customers who will tell you the very same thing. So if you find yourself in Port Pirie, stop in to Sanctuary Corner Café and Gifts. The staff are always happy to chat, pray and encourage. Everyone is welcome.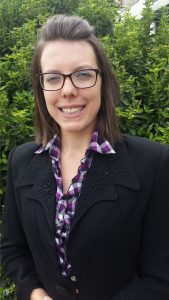 Felicity Squire is both a Schools Ministry Group pastoral care worker and a Uniting Care Wesley Country SA support worker while working at creating a freelance writing career in her spare time. She hopes to be a conduit for God to speak to his children and remind them of his glory and love. She strives to help anyone she can in her everyday life, using the lessons she has learnt to help others to succeed.