By Wendy Rush, with thanks to the City Bible Forum for their assistance.
Tracy Trinita is the very definition of an exotic beauty. But when she was young, this Balinese beauty with Dayak and Brazilian blood thought she was an ugly duckling – or giraffe – as her Brazilian heritage meant she was much taller than her school friends. When Tracy won the Elite Model Look International 1995 competition she was not only the first Indonesian to do so, but at 14 years of age she was offered a glamorous life in New York as a highly paid fashion model. Overnight, Tracy went from a figure of fun in the playground to being surrounded by fawning fashion industry workers, all focusing on her because… well, she really was beautiful.
As Indonesia's first supermodel Tracy went on to work for top designers such as Yves Saint Laurent, Jean Paul Gaultier, Kenzo, and Benetton on the catwalks of New York, Milan, Paris, Spain and Sydney. In Indonesia, Tracy's career moved into acting in films and television series and then to screenwriting and international music event promotion.
You might imagine this life was everything she'd hoped for. But surrounded by fame and glamour, she felt empty until she realised that people with faith were happier.
From the outside, the modelling industry appears to be very glamorous and many young people, particularly girls, aspire to be the next top model. What was your experience as a model like?
Tracy: I worked in various cities: Paris, New York, Milan, Sydney. After working as a model for some time I started to gain what I was looking for: fame and fortune, and I was hoping, as a result, for happiness. But there was a strange feeling that started to steal the joy in my heart that I couldn't explain at the time.
How did you become involved in the modelling industry?
Tracy: When I was 14 my mother sent my photo to the top teens magazines in Indonesia which hosted annual modelling competitions. One magazine chose me as one of their finalists and I became the winner. The same year my mother entered me into an international modelling competition held annually by Elite Models Management. I flew to Jakarta to compete and won, then flew to Seoul, Korea to represent Indonesia. I competed against 77 contestants from 65 countries and won: US$50,000 and a two year contract with Elite Models in New York City.
How did you cope with the huge change from being a child in Indonesia one day, to being in the adult world of modelling in New York the next?
Tracy: When I first arrived in New York City, unaccompanied and excited, I suddenly found myself living in a new kind of paradise. The modelling agency forgot to pick me up at the airport so I just found my way to the posh hotel suite in Manhattan, with room service on demand and money to spend. At first I just went crazy and racked up a huge bill! But when I finally arrived at the model apartment the reality of my new life began to sink in as I started my new job.  I felt like I was living in a dream world, but then the reality of hard, working life hit me. I had to stop thinking of Bali and start to make New York my home.
What were some of the challenges you faced?
Tracy: As a model, you spend your days going to auditions. You show up with your portfolio and the ones in charge will ask you a few questions. Sometimes, on a bad day, you will be scrutinized on everything about you: too skinny, too ugly, weird hair, not the right skin tone. Out of every 100 auditions you can expect to average about ten jobs. So I ended up experiencing the same loss of confidence and self-doubt common amongst my model peers.
Then after a while, though I expected endless happiness through glamour and fame, I found myself discontented and lonely. When I would call home and speak to my friends and family they would fawn over how amazing and exciting my lavish life of travel and meeting celebrities must be. I found myself unable to tell others how I was feeling. After every day I would lie in my bed, stare at the ceiling, and just cry.
What did you most enjoy about being a model?
Tracy: I loved the traveling part, financial independence, and meeting new people every day.
What did you dislike the most?
Tracy: It was tough to be far from my family and friends, and the world of modelling is highly competitive.
What made you decide that modelling wasn't something you wanted to pursue?
Tracy: There was a point in my life when I just felt like I was going around in circles; everything was just the same, nothing new. I also felt really empty. And I just wanted to quit. But then I stayed.
But when I became a believer there was suddenly a new fuel in my life; not working for money or fame, but using my talent to bring glory to God. So at that point I quit because I wanted to try other work fields.
How did you come to make a decision to follow Christ?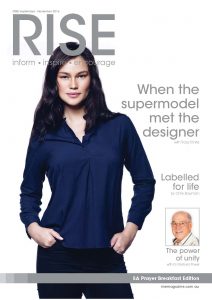 Tracy: I really never thought I would be a believer one day. I expected that fortune and fame would bring the ultimate happiness, but I found myself discontented and lonely. Nothing in the glamour and name recognition and adoring fans could fill that void. I wondered if what was missing in my life was God. Growing up I was never taught anything about any faith in my family. I heard about it in school, or from my grandma, but I never personally believed in it. So one night in my room in New York City, I cried out to any God who might be listening, to please reveal Himself to me.
Not long after, I moved to Paris where I met a fellow Indonesian friend. After a while she invited me to come to church with her. I knew that my friend would never give up until I agreed, so I gave in.
As I entered the church, I realised that there was something different: the people were so simple, but glowing. No one wore glamourous clothes, no one wore much makeup, yet everyone's face seemed to be glowing with happiness. I was intrigued.
That was the beginning of my curiosity about faith. I didn't want to easily believe in the Christian faith. I needed to do my homework. I studied a few religions, and decided that the one with the best answers would be the right religion for me.
I'm grateful for the many people and many books that helped me to see clearly. After comparing the answers I found that only Jesus offered words that touched both my mind and also my heart. After taking time to consider many things about faith, I turned to Jesus as my Lord and Saviour.
How did this decision change your life?
Tracy: When I became a believer, I was so excited about life like never before. It was like God gave me a new vision and mission, and there was meaning and purpose in my existence. I wanted my life to be even more meaningful. I joined many organisations: I was the ambassador for the World Health Organisation in Indonesia for the anti-tobacco campaign; I joined an orphanage ministry and YCAB[i] (at that time it was a drug prevention NGO); I joined church missions; I shared about Jesus to my friends.
Then I returned to the modelling world back in New York, but with a totally different mindset. I no longer felt I had to impress the world or gain fame and wealth. I just wanted to use my potential and at the same time make my Saviour known. Being a Christian gave me such a freedom to say no to ungodly things, because the most important opinion about you is what God sees in you. Ultimately I wanted to please God through using everything He had given me.
It seems a big jump from being a supermodel to an apologist[ii]. What led you to make this decision?
Tracy: Ever since I became a believer, I have been excited about life. I want to try and enlarge my potential. I became a writer for a magazine, a music promotor inviting famous singers to perform, I acted in movies and soap operas, I opened a fashion boutique, and finally one thing changed my life: going back to school under a scholarship. I studied Theology and Apologetics at the Oxford Centre for Christian Apologetics (OCCA) in the UK.
Why did you go on to study theology?
Tracy: At first, I was so hungry to learn more about God and I thought I would do that through weekly Bible study and Christian conferences.
When I got the scholarship to study at Oxford, it was mind-blowing! It was too good to be true, and I didn't deserve it at all. It was just like a miniature of God's grace: freely given.
Did I want to accept it or not, that was my decision. I did say yes and a few weeks later I was a student at OCCA–Oxford. Truly life changing!
How did you come to work with Ravi Zacharias International Ministries (RZIM)?
Tracy: Before joining RZIM I started working as a pastor at my church in Indonesia. In my second year of theological school I prayed to God about the direction of my life. I asked for specific guidance: "Lord, if you want me to be a full-timer, please send a pastor that would offer me a job to be a pastor in his/her church." For me, that would be the final confirmation. I didn't expect much, but God answered my prayer by sending an American pastor, Dave Kenney, who lived in Jakarta. He came to Oxford for Summer school where he offered me a job, and so I accepted.
I worked as a pastor from 2009-2013 at the International English Service Church in Jakarta, Indonesia, and then in 2013 I joined RZIM as an itinerant speaker. It has been a blessing being in God's mission.
How would you compare your current life with your life as a supermodel?
Tracy: It's like I've had two different missions in life. Back then, everything I did was just for personal gain. Now, I want to use everything God's given me for His glory. Life is now more simple, focused, and purposeful.
Do you have a specific plan for your life, and what is it that you would most like to achieve in the future?
Tracy: I'm looking forward to visiting various cities in Australia and sharing what the Lord Jesus has done in my life, and I trust He has an amazing future for everyone who puts their trust in Him.
I'm extremely excited for missions in Java, Indonesia. God has put this in my heart for two years and I'm trying to open the door to reach out and prepare church leaders across the island of Java, especially since I know God is with me and by His grace everything is possible.
I want to be part of God's work in preparing generations to go deeper into Scripture and to bring transformation.
In the future I would love to continue sharing God's love, empowering women, and teaching life skills.
People keep saying we are living in the YOLO (you only live once) era, and they think they can do everything under the sun. I believe people should think deeper things about their lives: What's the meaning and purpose of their existence, why we are here, where do we go when we die, and many more important questions.
Because we only live once, let's make it count and have a sweet ending.
Tracy Trinita was in Australia sharing her journey from the catwalk to meeting the designer she's been modelling for since birth at the 'When the fashion model met the designer' events in Sydney, Canberra, Melbourne, Brisbane, Adelaide and Perth. Tracy was brought to Australia by Ravi Zacharias International Ministries and City Bible Forum.
For more on these organisations:  citybibleforum.org,   rzim.org
[i] YCAB is the abbreviation for the organisation's full name in the Indonesian language, Yayasan Cinta Anak Bangsa, which translates to "Loving The Nation's Children Foundation".
[ii] An apologist is someone who offers an argument in defence of something, using information to counter criticism or objections.